Order processing software from Acumatica lets you centrally manage sales activities, such as quote entry, order fulfillment, shipment creation, pricing, discounting, and stock status inquiries.
How Acumatica Sales Order Management can work for you
Improve ordering, fulfillment, and delivery processes by giving sales and service real-time data using order management software to improve customer service.
With Acumatica Sales Order Management, you can allocate stock for customer orders, manage drop-shipments from vendors, manage customer returns, and tailor workflows and approval processes. Streamline cross-company buy-sell transactions by automatically creating a sales order in one company from a purchase order in another company in the same tenant.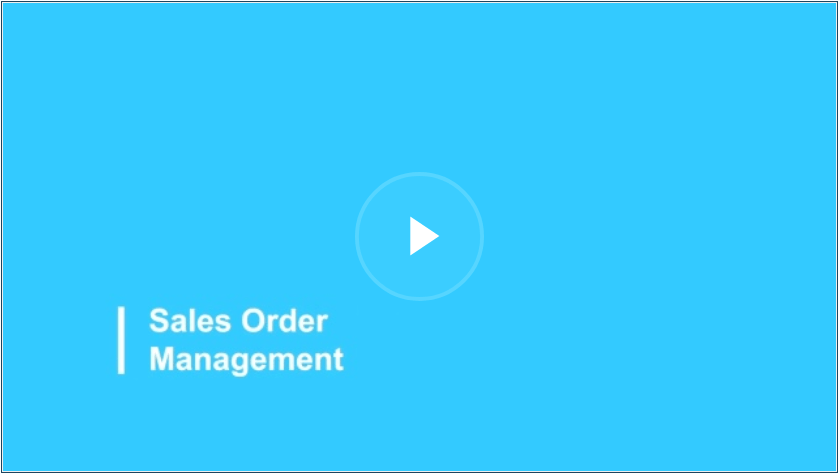 Key Benefits of Sales Order Management for Your Company
Important Features of Sales Order Management
Sales Order Management integrates with Customer Relationship Management, Inventory Management, Requisition Management, Purchase Order Management, Accounts Receivable, Production Management, and Field Service Management.
Configure the inventory allocation rules for each step of the sales process. Create warnings when inventory is over-allocated or unavailable.
Manage complex pricing and customer and vendor discount policies. Set up quantity and volume discounts as a percent or an amount. Specify multiple discount rules and sequences or allow the system to automatically apply the best discount combination for individual items, groups of items, and documents. Maintain discounts in single and multiple currencies. Establish rules and policies for price overrides: specify price by warehouse, assign prices based on quantity sold, or set prices using various units of measure (single item, case, pallet, etc.). Import discount information, and apply discounts to opportunities, quotes, sales orders, purchase orders, invoices, etc.
Link sales orders with purchase orders—allocate received items to orders. Generate purchase orders automatically or link them manually. Auto-hold sales orders until receiving a purchase order.
Special Order Drop Shipments
Create drop shipments automatically from sales orders or enter them manually by linking to a sales order from the purchase order entry screen. After the bill is entered for the drop shipment order, the corresponding sales order will be released, and an invoice will be generated for the customer. Manage drop-ship details for shipments and direct returns to vendors.
Get real-time inventory data, including allocated inventory. During the entry of a sales order, Acumatica will notify the user if the quantity is not available or is over-allocated.
Return Merchandise Authorization (RMA) features allow you to receive goods from customers. RMA orders can be processed as a credit to a customer balance or as a replacement for damaged goods. Every line can be marked with a reason code to specify the return reason.
Multiple and Partial Fulfillment
Fill orders from more than one warehouse. Split a sales order into multiple shipments from different warehouses based on availability and costs. Track partial ship order balance and manage backorders.
Specify a different delivery date for each line item on a sales order. Generate shipment orders according to the delivery schedule and item availability. Restrict shipments for on-hold orders.
Pick Lists and Replenishment
Generate pick lists according to item availability and the pick priority for each warehouse location. Auto-search other warehouses, issue replenishment orders, and place the sales order on hold until the replenishment arrives.
Consolidate multiple shipment orders onto a single invoice—automatically or manually. Optionally update price and discount detail on review before invoice printing and updating accounts receivable.
Credit Limit Verification
Before releasing a sales order, Acumatica verifies the customer's credit limit. Orders placed on credit hold are automatically released if a customer payment is entered or if the order amount is decreased. Authorized users can override the credit hold status and force order fulfillment.
Use workflows to automate and modify the quote to sales order conversion process, updates to sales order status, returns and replacement process, or pick, pack, and ship processes.
Cross-Company Transactions
Streamline cross-company buy-sell transactions by automatically creating a sales order in one company from a purchase order in another company. Cross-company transactions generate the purchase receipt in the buying company from the shipment in the selling entity and create the sales invoice in the selling company when the bill is created in the buying company.
Get a free consultation to help
accelerate your business