Automate processes and reduce errors in purchasing, order fulfillment, inventory tracking,
and customer support with distribution management software from Acumatica.
Why Choose Acumatica for Distribution Management Software
Distribution management is Cloud ERP software that helps companies manage their supply chain and logistics activities, including warehouse management, inventory management, and order management (sales and purchase orders). It integrates these activities with the company's financials and sales. Wholesale distribution software can help companies improve customer satisfaction, reduce order times, and control costs across the entire supply and distribution chain. Streamline cross-company buy-sell transactions by automatically creating a sales order in one company from a purchase order in another company in the same tenant.
Acumatica Distribution Edition includes Sales Order Management, Advanced Inventory, Requisition Management, Purchase Order Management, and Advanced Financials. It is fully integrated with Acumatica's Warehouse Management System (WMS), Customer Relationship Management (CRM), Manufacturing, Field Service, and Project Accounting. Information only needs to be entered once for visibility across all modules and the entire business organization. Cloud access with the mobile application framework enables distributors to manage the entire sales cycle from opportunity to sales order processing in the office, on the road, or from a home office. Process purchase orders, transfer stock, and manage inventory levels remotely via phone, tablet, or laptop.
Check out this video to uncover the latest financial features and capabilities delivered in Acumatica New Release 2021 R1.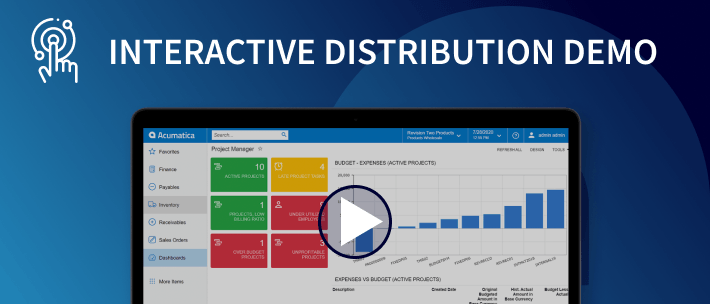 The Total Economic Impact™ Of Acumatica
Discover the financial and business benefits of Acumatica Cloud ERP.
The New State of Work in Challenging Times
The right cloud ERP software can keep your virtual teams productive even during a pandemic. Here's how.
Benefits of General Business Edition for your Business
Get a free consultation to help
accelerate your business