Requisition management software minimizes the complexity of purchasing multiple products from a wide range of suppliers. Rather than relying on email and spreadsheets, you can use requisition software to automate the way you gather requests, obtain vendor bids, create quotes, approve quotes, manage purchases, and fulfill orders in one online location.
How Requisition Management can work for you
Acumatica Requisition Management software helps you streamline your most complex purchasing processes as you serve the needs of internal or external clients. Because our purchase requisition software integrates with other Acumatica modules, you can eliminate paperwork while providing your sales, service, shipping, receiving, management, and other teams with visibility into your requisition processes.
Streamline and automate the vendor bidding process for stock and non-stock items. Email requests to vendors, collect bids electronically, and convert winning bids directly into purchase orders.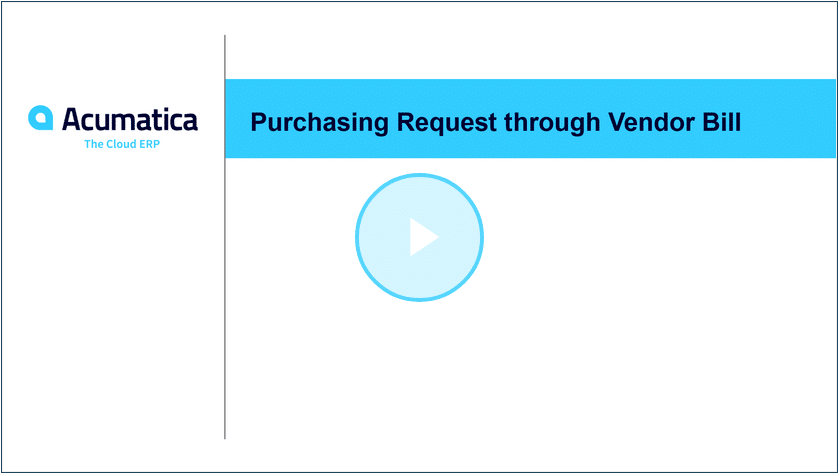 Key Benefits of Requisition Management software for your Company
Important Features of Requisition Management Software
Automatically create purchase orders in the purchase order module from approved requisitions.
Limit requests to a specific list of inventory items by user.
Optionally hide your product catalog from users, requiring manual item entry.
Collect and Organize Requests
Bundle requests from multiple sources in a single requisition. Create approval rules based on quantity, request amount and more.
Set requisition defaults by request class to simplify data entry and reduce errors. Limit selection to a specific list of items, create customer only requests, hide vendor information, hide inventory catalog information, allow multiple vendors per request, and set promised lead times.
Create customer quotes to offer a price to customers for requested goods.
Set lead times for vendor items. Promise dates are calculated automatically by backing out the lead time from the required date for item requests.
Designate where the vendor should ship the requested items when the requisition is approved, and the purchase order is released. Requests can be made to ship items to any company location, to customer locations, job sites, or other addresses.
Turn an approved quote into a sales order from with one click. Sales orders are managed by the rules within the sales order module and linked to the requisition for easy access.
The Requisition Management module integrates with purchasing, order management, inventory management, and all financial modules to automate all processes, eliminate duplicate data entry, and properly account for all transactions.
Automatically create a complete audit trail of all transactions, including user IDs of who entered and approved the transaction, and any user who modified the record. Optional notes and attached electronic documents remain with the activity records.
Get a free consultation to help
accelerate your business