Bill of Materials and Routing
Create, maintain, and control master data definitions of products and processes with convenient one-screen maintenance access
using the Bill of Material (BOM)/Routing module, part of the Acumatica Manufacturing Edition.
Improve Scheduling, Costing, and Material Planning with Accurate Bill of Material and Routing Standards
Inventory management software can help
Inaccurate bill of material and routing definitions disrupt production schedules, creates cost variances, and wreak havoc on material plans.
Conversely, accurate and well-defined bill of materials improves production scheduling for maximized throughoutput and capacity utilization. Costs align to estimates and materials are available for production reducing costly rush orders and lost time waiting for parts to arrive.
you control system-wide inventory across geographically-dispersed locations to efficiently manage your distribution process without losing track sight of costs. Receive inventory to a specific location and drill down to change item default lot/serial numbers, valuation methods, accounts, and more. Manage perishable inventory, automate replenishment, and build or disassemble kits.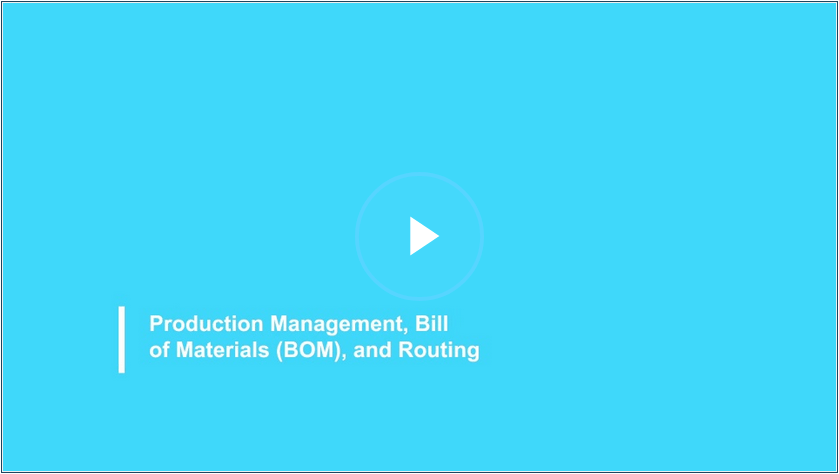 Key Benefits of Manufacturing BOM and Routing Software for Your Company
Important Features of BOM and Routing
Effectivity/Expiration Dates
Control material planning and usage according to effectivity dates for phase-in and phase-out of content changes.
Document the entire process using detailed work instructions and standard note capability for each process step. Define which work centers or machines to use, times for processing or setup, and other labor operation details.
Allows for components on Bills of Material to be displayed where they are used on a single-level or multi-level basis.
Use phantom items to simplify structure maintenance for related groups of parts and materials to multiple products. If you create a planning bill of material, your planning and production teams can "skip over" phantoms to plan and allocate components.
Relate BOM component parts to the drawing's part numbers to avoid confusion and duplicate entry in the bill of material.
Enables the support of multiple sites and have different or alternate BOM/Routing for each different location.
Use flexible cost roll for a single-level or multi-level BOM, by item or site. Costs of the lower-level item will "roll" into the costs of the higher-level items. In a standard cost operation, costs will update the pending standard cost for each item in inventory.
Copy an existing BOM/routing to a different item as an alternate BOM/routing or for easy setup for a new, similar item.
nAllows for the replacement of a component with a different component on individual or all Bills of Material.
Used to display optional or required values when reporting production. These are available on the bill of material header and/or operations and can be copied onto a Production Order when the order is created.
Maintain a complete revision history of BOM/routing. Save and view multiple revisions – past, present, and future – as well as the reason for the revision.
Unlimited Fixed and Variable Overhead Costs
Define unlimited fixed and variable overhead costs by operation or work center.
Ready to put Acumatica to work for you?